Weathering the Storm in Bayard, NE
Monday, June 13, 2022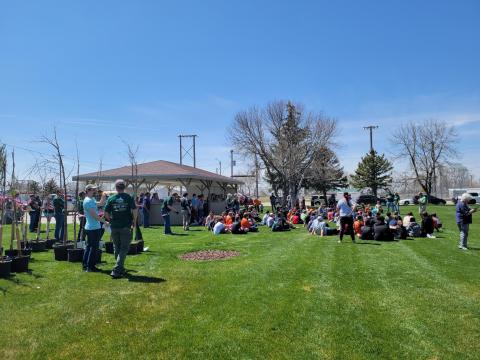 Bayard, NE, proudly wears its Tree City USA status because it didn't come easily. In June 2017, two tornados touched down in and around the small city of 1,000 people, causing widespread property damage. The storms also did a number on the area's trees.
"We lost 30 in our cemetery alone," says Renne Dabney, Deputy Clerk and Treasurer for the City of Bayard. "It was pretty devastating."
Neighborhoods, parks, and schools also sustained heavy losses. Couple that with the looming arrival of the emerald ash borer (EAB), and it was a bleak outlook for the western Nebraska town's greenery. But while some might have thrown in the towel, Bayard made trees the priority. "They're a part of our town's identity, and we want them to be here for the next generation," says Dabney.
Working with the Nebraska Forest Service, city workers and volunteers set out to accomplish several tasks quickly: create a tree inventory, develop an EAB community response template, and apply for funding to replace the community's lost trees.
"We got to work cataloging their trees," says Amanda Sheppard, North Platte Natural Resources District Outreach Technician. "The ash were a priority, and that's where the community response template was key."
Ash trees can be treated, removed or replaced, but they can't be ignored. Nebraska Forest Service (NFS) inventories estimate communities will need to commit more than $275 million to protect themselves from infested, publicly owned ash trees.
The "EAB Readiness and Response Plan" is a dynamic document designed to prepare and respond to the tree pest's introduction. Nebraska municipalities work with NFS staff to develop the plan, and then move forward with a community-tailored strategy to mitigate the impacts on budget and overall canopy health. It then acts as a resource to navigate what can be a multi-year response effort. Chrissy Land, Western Community Forester, worked with Dabney and the City of Bayard to develop a response plan. Upon completion of the plan, they were able to leverage the strategy to apply for and receive the Community Tree Recovery grant from the Arbor Day Foundation, which provides free trees to communities affected by natural disasters.
The 2022 Arbor Day was a special one for Bayard, as they received 180 trees, which were dispersed through a large volunteer planting project. Over 270 youth and adults turned out for the event. Bayard also received and planted ten trees last fall through the NFS Free Trees for Fall Planting grant.
"We really like trees," smiles Dabney. "Now, we'll have enough to provide to members of our community, schools, the cemetery, and important commerce areas. We have the Nebraska Forest Service and Arbor Day Foundation to thank for that."
For more information on U&CF in Nebraska, visit https://nfs.unl.edu/. 
Photo: Christina Hoyt.