Meet a Forester, Jennifer Eberlien
Wednesday, January 25, 2023
This month, we are pleased to feature Jennifer Eberlien, Regional Forester for the USDA Forest Service Pacific Southwest Region.
We invite you to meet Jennifer!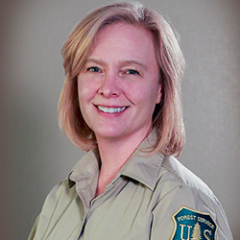 What was your first position in the field of forestry?
I'll answer this in reference to my first job with the Forest Service. I started as a seasonal archeological technician for the Chequamegon National Forest in upper Wisconsin. I am an archeologist by training and went to graduate school at Northern Arizona University in Flagstaff, surrounded by Forestry students. 
How long have you been in your role?  
Since August 2021.
What do you enjoy most about being a Western Forestry Leadership Coalition (WFLC) member? 
Meeting together, sharing our challenges and success, and problem-solving. Of course, learning more about each other over drinks/eats is always a plus in my book.
What do you see to be the emerging issues in your region? 
The challenge of plenty and opportunity instead of the challenge of scarcity. What an amazing time in terms of resources and the partnership abilities right now. I am up for the challenge! 
What is your favorite tree?  
Sugar maple! Love that it produces sweet stuff and has amazing color in the Fall. I'm also biased because that is the subject of my husband's research – maple syrup making and industry.