Meet a Forester, Jack T. Ogumoro
Wednesday, December 14, 2022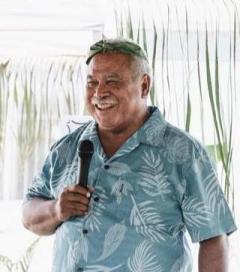 This month, we are pleased to feature Jack T. Ogumoro, Director of the Division of Agriculture for the Commonwealth of the Northern Mariana Islands Department of Lands and Natural Resources. We invite you to meet Jack! 
What was your first position in the field of forestry? 
In 2019, I started working as the Director of the Division of Agriculture under the Department of Lands and Natural Resources. One of my responsibilities was to oversee our forestry section, which is funded by the USDA Forest Service. The section consists of the Urban and Community Forestry Program, Forest Stewardship Program, and Forest Health Program. Each program is managed by a program coordinator, who is also responsible for implementing forestry activities on each of the islands, including the neighboring islands of Tinian and Rota.
How long have you been in your role? 
I've been in my current position for almost three years. However, growing up on an island, I helped my parents at our farm, and I learned about clearing the farm and getting rid of vines and unwanted weeds. After college, I returned home and later got back into farming with my son, who also started farming after finishing college. Just like when I was growing up, the farm needed to be taken care of, or the unwanted vines and weeds would take over. Interestingly, these are some of the very same activities our forestry programs are teaching our communities to do. While in college, my girlfriend was also working for the state forest service, and on weekends for two consecutive summers, I would visit her on the lookout tower where she was working to find and report forest fires in Eastern Oregon. I never thought I would come back to my island of Saipan and be part of the forest program. What a surprise. 
What do you enjoy most about being a member of the Pacific Islands Forestry Committee?  
I like working with others, especially with other islanders. As islanders, we very much share the same issues and challenges which we all experience as inhabitants living on small islands. Because of our many similarities, I find it easier to communicate with them, relate to them, and to share our experiences and solutions the island way.
What do you see to be the emerging issues in your island?  
The proliferation of invasive species and pests. As the world becomes smaller and smaller due to modern technology, and with the increase in commerce between the islands and other countries, there will be challenges due to the potential threat of invasive pests and vines, including those that have not been introduced or identified, as they are introduced with devastating consequences on the economy, the environment and the future of these beautiful islands.
What is your favorite tree? 
Langilang (Canaga otorata). A kind of tree with flowers that smell like perfume. The flowers are very popular to be used for mwarmwar (Carolinian word for wreath) or Mwar (Carolinian word for lei), or to tie two or more flowers together and have them hang from the ear, usually the right ear. As islanders, we wear these flowers anytime and anywhere whenever they are available as part of our island culture.