Engaging Volunteers in the Wonders of Arizona's Magnificent Trees
Wednesday, October 26, 2022
Expanding the reach of the Arizona Magnificent Tree Program through interns and volunteers
Guest blog post by LoriAnne Barnett Warren, Urban Forestry Specialist, Arizona DFFM, with content from the Arizona Magnificent Trees Program.
Arizona is home to many natural wonders but one of the least recognized and often overlooked is our trees and forests. From our sprawling Ponderosa Pine forests, to the largest Fremont Cottonwood in the nation found in Skull Valley, Arizona, to the very important trees found in our urban areas – trees are rooted in Arizona's history and heritage. 
Our Arizona Magnificent Trees Program, spearheaded by the Urban and Community Forestry Program at the Arizona Department of Forestry and Fire Management (AZ DFFM), like other similar large tree recognition programs around the country, seeks to create a living record of magnificent and majestic trees in our state's forests and communities. We know that trees play an important role in the ecosystem and human health and well-being, and contribute to healthy ecosystems in both open spaces and for people and wildlife living in urban areas and built environments.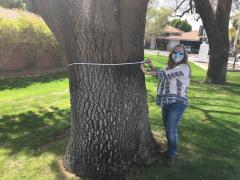 The Arizona Magnificent Tree Program connects people to trees, increases awareness of the field of forestry and urban forestry, and encourages people to pay attention to trees as critical ecosystem species for our health and well-being. 
The Arizona Magnificent Tree Program is an award program designed to publicly recognize trees that are the largest of their species (Champion Trees), trees that have cultural significance and a direct connection to people (Heritage Trees), and trees that are proven to have been in their same location before Arizona Statehood in 1912 (Witness Trees). Community members, public lands staff, outdoor adventurers, and people of all ages are invited to find trees to submit to the Program. AZ DFFM celebrates trees that are, and have been, cornerstones of our communities as much as those found deep in our forests. 
If you are not familiar with these programs, the trees are scored using a formula based on tree height, trunk circumference, and average crown spread. Those scoring the highest are contenders for recognition as a champion in their species category. In Arizona, trees of any species can be submitted for recognition. Each November, our team releases an Annual Report of newly crowned champions and, on Arbor Day, highlights the "Magnificent 7," the most notable seven trees submitted in any category that year.
This program has recently been redesigned to expand its capacity and community reach. Until recently the job of curating and measuring all 230 trees on the current Champion, Heritage, and Witness list largely fell to our organization's Urban Forestry Specialist. In addition to the great number of trees, our state is geographically large and traveling to view new nominations and verifying existing trees could not always be a priority given other programmatic needs.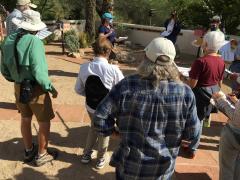 Thus, we spent the last year documenting the program more thoroughly for continuity and standardization, establishing an Advisory Board, recruiting more volunteers to assist our staff with checking the trees, and hiring three interns to assist with projects related to all aspects of the program. 
We developed a bi-annual schedule for introductory tree measuring workshops to grab volunteer interest. Pulling from docent programs at organizations such as local arboreta, Master Naturalist, and Master Gardener volunteers, we were able to double the size of our measuring team. While we had about five active volunteers measuring trees for us, we now have 10 and three staff members.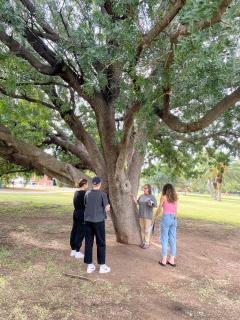 These volunteers were hooked by the introductory workshop and continued on to an advanced skills training program which included a self-directed evaluation of finding and measuring trees for practice in our communities. They were required to measure and score the trees within five points (+/-) of the scores obtained by the Urban Forestry Specialist, many completing it without any issues. We made measuring tools available to those in need, making the process accessible to anyone interested. 
Our program interns have additional insight into what our communities find interesting and engaging about Arizona's Magnificent Tree Program. While learning about the field of Urban Forestry and how to measure trees of any height, they are gaining skills in communications, marketing, database management, program delivery, public speaking, and more. 
The interns greatly value Justice, Equity, Diversity, Inclusion, and Accessibility (JEDIA) and are eager to offer ideas and suggestions to expand program reach into communities not previously accessed. For example, storytelling and cultural history is a cornerstone to building relationships in new communities. We redesigned the Heritage Tree nomination process to enhance the importance of storytelling. Additionally, seeking trees in a community and reaching out to ask community members to share their stories is a powerful process. While we have not yet taken a deep dive into collecting more stories, we will do so in the spring of 2023. Those tree stories will be shared widely so others can understand cultural relationships to these majestic trees, if different than their own.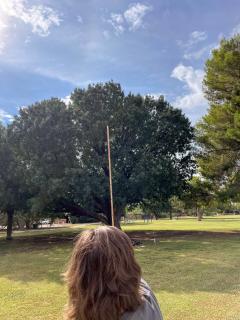 Increasing Magnificent Tree visibility and access to publicly recognized specimens offers an opportunity to better communicate the importance of the trees to our quality of life. Not all of the trees on the list are far afield; many are on arboreta grounds, nature centers and parks, and can be found along paved wheelchair-accessible trails. One team member is designing an interactive Google Map for some publicly available trees with details about accessibility including terrain, wheelchair accessibility, driving distance, trail difficulty ratings, and more. 
Tree hunting and measuring is a fantastic way to introduce members of our communities to the importance of trees and green space, highlight cultural heritage related to trees, discover the field of forestry, and the value of trees as part of our collective rich natural history. The Arizona Magnificent Trees program recognizes trees within the state of Arizona that are simply put … magnificent!
For more information, visit the Arizona Magnificent Trees Program website at dffm.az.gov/arizonas-magnificent-trees. To learn more about the program or to receive copies of training materials and content, please contact lbarnett@dffm.az.gov.
Photo Credit: Arizona Department of Forestry and Fire Management