GNA Spotlight - March 2023
Wednesday, March 22, 2023
Authored by Sam Pankratz, GNA Forestry Program Specialist, Colorado State Forest Service
Image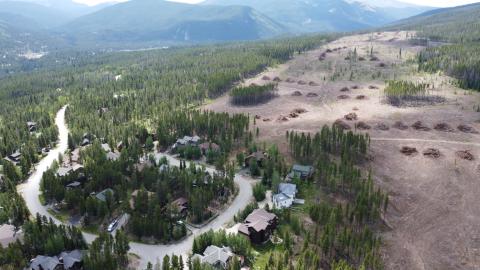 The White Cloud Fuels Reduction Project, funded under the White River National Forest Fuels Projects Good Neighbor Agreement, created a Community Protection Zone on federal lands adjacent to communities in the wildland-urban interface (WUI) that have been identified as having an elevated risk of wildfire in Summit County, CO.
The goal of the White Cloud Fuels Reduction Project is to strategically connect, strengthen, and build upon the series of existing fuelbreaks around the Breckenridge and Blue River area while regenerating an old forest. The project will reduce the volume and connectivity of fuels within the project area and reduce wildfire hazards to the adjacent neighborhood and greater Breckenridge, Blue River, and unincorporated southern Summit County communities. The cutting of live and dead trees mimics the ecologically beneficial effects of a fire, which the forest is adapted to, and will reduce fire intensity so firefighters will have a greater opportunity to engage safely in fire suppression activities in the event of a wildland fire.
Partners in this shared stewardship project include the Colorado State Forest Service, USDA Forest Service, Summit County, Town of Blue River, Town of Breckenridge, and the local wood products industry with critical access provided by private landowners.
By working closely with the local wood products industry, trees harvested from the project site will be used locally for dimensional lumber. Without this industry support, the project would have cost approximately $300,000. The capacity in the local wood products industry to utilize the trees helps to cover project costs and support local jobs and markets, while still protecting communities in the WUI and restoring a healthy forest. A thriving wood products industry is integral in completing fuels reduction treatments by reducing project costs and utilizing Colorado's forest products instead of burning or chipping the wood.
For more information, contact Sam Pankratz.
Photo: Colorado State Forest Service